Specimen Workflow Optimization
Other Use Cases & Applications
Quake Global's specimen workflow and location solutions deliver hospitals greatly improved processing time with 99.98% accuracy of specimen identification. From the specimen collector to the specimen processor and beyond; follow the route of each specimen to ensure accurate data and delivery.

Specimen Workflow Analysis
Healthcare RFID infastructure and software provides actionable analytics relevant to specimen workflow. Historical data is used to determine inefficiencies and reduce specimen dwell times.

Specimen Tracking Visibility
Location data is reported to Quake's RFID software (QiAM) allowing hospitals to build complete specimen tracking history reports. Automated alerts are generated for collection, arrival and processing completion; ensuring optimization of the specimen workflow. QiAM provides hospitals with secured status monitoring via private web browser for greater visibility.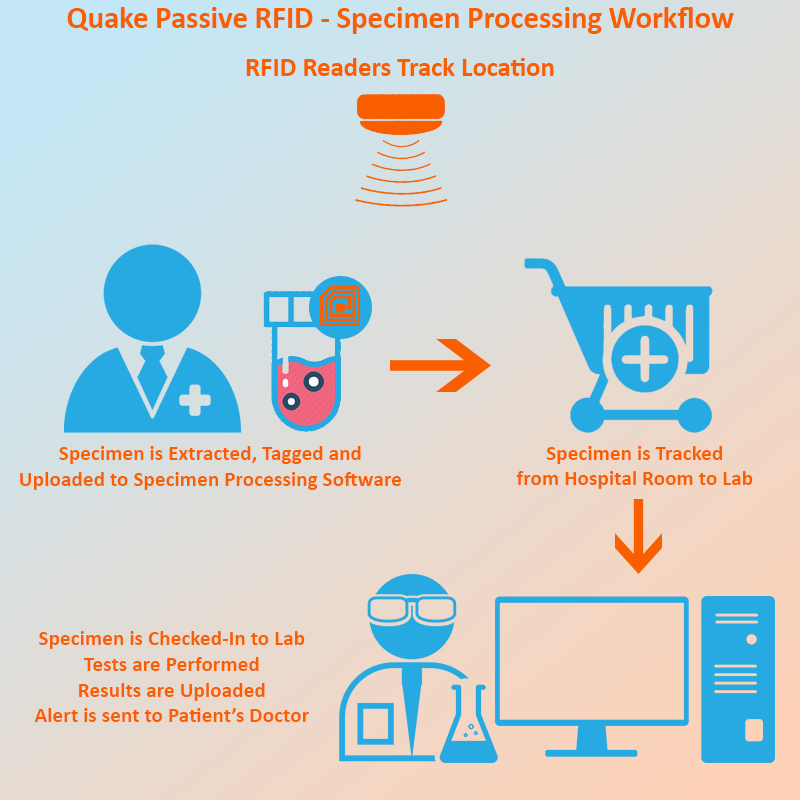 Why Choose Quake for RFID in Healthcare?
Quake Global participated in the development of global RFID standards and is an original innovator of the technology. We own multiple patents specific to unique uses of RFID technology to optimize performance. Our solutions are based on open architecture that enables you to utilize a variety of different industry readers, a variety of different industry tags, and connect to multiple different systems. Quake is the only company that will provide you 98% accuracy on all movements and actions in your operation. We deliver quality solutions with extensive longevity and performance to our customers.

Quake's experience, market reputation and technological influence make us industry leaders in delivering state of the art solutions to the global market.
We wanted to use equipment tracking data to optimize and develop related business processes, and asked Quake Global to configure a system for our needs and parameters.
David Stotland Director of Biomedical Engineering, Northern Westchester Hospital
We achieved 99.98% accuracy over a sample size of close to 100,000 lab tests. That means better information to practitioners and better patient care.
Schuyler O. Sanderson, M.D. Director Anatomical Pathology Lab