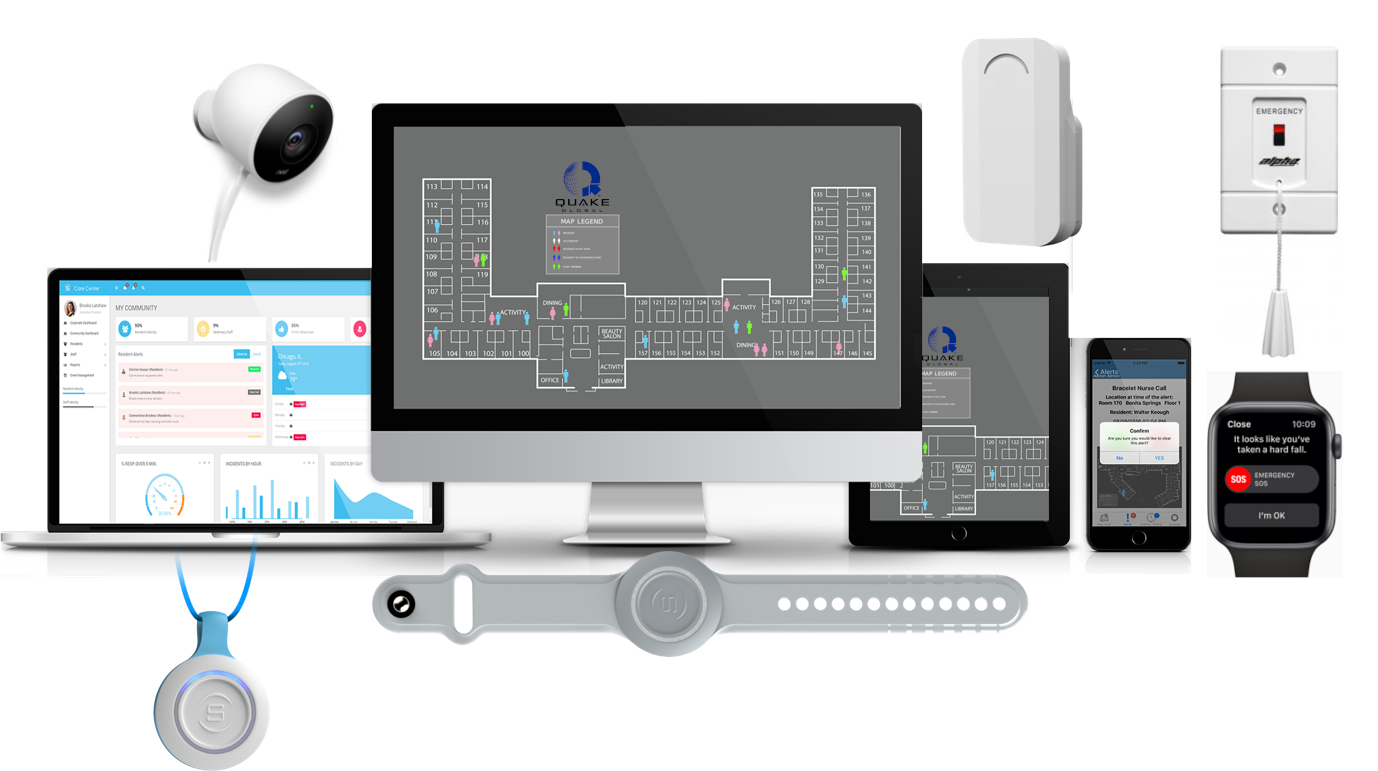 This advanced, cloud-based wearable system enables tracking, calling and reporting all in real-time. Request a demonstration below to learn more about how it can support better, more prompt resident care, enhance safety and satisfaction, and improve staff workflow and efficiency.
Advantages
FEATURES & FUNCTIONS INCLUDE
‌Emergency call system
‌Contact tracing
‌Wearable technology with 16 month battery life
‌Real Time Location System (RTLS)
‌Auto escalation and alerts
‌Wander management
‌Mobile technology compatibility
‌Compliance ready
‌Robust reporting
‌Remote management and monitoring
SYSTEM ADVANTAGES
‌Determine resident, staff, and equipment location 24/7 in real-time through interactive map displays
‌Enable residents to make emergency calls with the simple push of a button on a wearable device or in-room pull cord.
‌Enable immediate staff response time controlled with auto build escalation through mobile devices and emails
‌Locate residents during medication passes to ensure timely administration
‌Locate residents in seconds upon care provider arrival
‌Enable visiting family and friends to find loved ones immediately
‌Track and keep residents safe through wander management system
‌Ensure all residents arrive for meals and other scheduled activities
‌Ensure residents call system ensures residents receive immediate assistance
‌Eliminate maintenance through durable, reliable, water resistant wearables with extended battery life of over one year
‌Generate billable events
‌Set compliance to local standards
 
Not all emergency call and RTLS systems are created equal. 
Quake CareCenter solutions can help your facilities to bring residents an elevated level of care, comfort and safety.  
BLE CARECENTER Ensure Staff
‌Don't miss actions and events
‌Act in real time
‌Remain in compliance
‌Create personal care for each resident based on behavior
‌Stay on top of everything that transpires and moves 24/7
‌Be and stay in charge
healthcare
Resident Independence, Staff Peace of Mind
Quake's BLE solution is used for senior living operators who seek visibility, control, and compliance for their community. Quake solution enables staff to insure immediate response in the event of emergency—and to provide timely assistance to residents. Solutions can stand alone or be integrated with other bartender SW or HW options such ASSAbloy or Herr.
Quake's advanced solutions are scalable, affordable, and easy to deploy.