Using an RFID automated location system for managing assets in the supply chain is a no brainer, but so many industries haven't implemented a location solution, why is that?
Here are the top 5 reasons why some manufacturing and supply chain organizations have not implemented RFID tracking of assembly components, assemblies, products ready for shipment and event for their supplies, kits and tools. 
Implementation and decision points feel intimidating and overwhelming, where do I start?
Customers worry about having to change all their processes.
They don't know what to tag…will they need to tag every resistor, capacitor and chip?
Most manufacturing facilities run lean operations and don't want to pull people off mission-critical production efforts to implement change. 
Frequently there are concerns about how disruptive this will be to ongoing production and most want to avoid productivity issues such as assembly line downtime and missed shipments  
Here are the answers based on our extensive experience with implementing RFID in industries as diverse as healthcare, manufacturing and senior living. 
The process starts with picking the right vendor with RFID and manufacturing process expertise. After 20 years in location intelligence, we know how to implement a great solution and how to keep it running to ensure you can run your organization seamlessly.  
What processes need to change? If you use bar code today, the process change is minimal. Just replace your bar code printers with an RFID tag printer. The primary change will be that instead of bar code scanning at every touchpoint, you will have continuous simultaneous real-time inventory visibility, at the component level and when each product is assembled, boxed and shipped.

Pro tip 1: Do you rely on human intervention to scan each item to ensure you never have stock-outs that stop your assembly? Removing the step for scanning removes the element of human error, one less step speeds up your production and user-configured par level notifications can let the purchasing team know real-time what is needed to keep your production line humming!  
Pro Tip 2: Using real-time location to send inventory updates can allow you to implement automated re-ordering.
Pro Tip 2: How much time is spent at your facility trying to locate lost tools, components or supplies?  Having everything available to view on a map saves time for everyone, and it's as easy as looking on your phone, table or computer.  

What should you tag? Every item that adds cost or decreases the efficiency of your assembly line and thus creates a risk to your operation. Do you put a tag on every small component?  No, but you should tag the container and when the container leaves the main assembly area and passes by an overhead antenna or is placed on a designated "refill" antenna, the system can send a notification that replenishment is needed. Each subassembly can be tagged as well in order to track the progress of each part of the overall product assembly. This is the type of expertise we bring with our consultative implementation offered with every installation!Anything that might stop production should be tagged, but our team of tagging experts can help you balance the tagging of components to minimize complexity but maximize the return of your RFID solution. Our manufacturing/supply chain RFID experts will be there with you to help plan the best use of RFID for you. Relax, we have done this before! 
Who needs to be involved? We have a dedicated project manager that will own your project from start to finish. We will ask for one meeting with a cross-functional team, a resource from your organization to be the main point of contact and we will take it from there with a project plan and a timeline. The cross-functional team will meet one last time at the acceptance criteria signoff and training session and that's it, you are done and ready to use RFID to maximize the efficiency of your operation!
Disruption to our customers has historically been very minimal, much of the work happens before we start the installation and because we are very experienced in manufacturing and RFID, our customers have not had downtime, missed shipments or productivity challenges. After the Quake solution is installed with real-time inventory management your productivity will be improved!

We have a three-step process:

Installation planning of the infrastructure starts with a building blueprint and our teams discussing goals and objectives and a team walkthrough. Our RFID physics subject matter experts review the goal and the architecture and put a plan together to ensure maximum system accuracy. 
The actual installation can occur very quickly with the mapped equipment placement predetermined and the timeline documented. While times are variable based on the facility side and complexity of the manufacturing line, we can ensure that your specific timeline stays on track. 
The final step is Quake running its propriety testing and analysis tool to ensure every inch of your operation is optimized for read quality. Generally, with a few or no minor adjustments, your system is ready to go!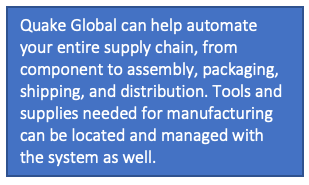 As a bonus, the monitoring system that quake installs with every implementation sends our customer support
team exception alerts that allow them to proactively monitor and make minor adjustments on the fly, long before
your production line is impacted. 
The Quake location intelligence solution collects all the data about utilization of supply chain components, shipped goods and the supplies and tools to assist you in generating generates valuable data to analyze your operations and we offer API integrations to all ERP systems. 
Customers who have used Quake's RFID location for manufacturing and supply chain include Shaw industries, Thomasville, DLA, DuPuy Synthes/J&J, Airbus and Bell Sports 
Quake Global has expertise in locating items throughout the world using sophisticated satellite, cellular, RFID, BLE and software-based technologies. 
We help you find everything that matters with 360o visibility to anything anywhere.